If Albrecht Dürer (1471-1528) was probably one of the inventors of watercolors [a technique long-considered as an auxiliary to oil painting in these times], the technique only became recognized as a true painting process 300 years later, at the end of the XVIIIth century.

In the field of natural sciences, it was used by Gerhard van Späendonck, Hübner, A.J.Rösel von Rosenhof, M. Olivier, Paul Méry, John James Audubon, Jean Henri Fabre, in botany by Madeleine Rollinat, Yan' Dargent, Basilius Besler, and in mycology by Caspar Stoll, Schaëffer, Holmskojld, Bulliard, L.R. and C. Tulasne, J.B. Barle, Persoon, etc...
Their paintings are used as a reference in their respective areas!

How are made our watercolors of insects?


Watercolors of Coleopterans

Besides plates, cards and sketch books of Coleopterans, we offer you coleopterans in their natural environment, like the example of this golden Cetonia (Cetonia aurata) laid down on a marguerite flower as well as a stag-beetle (Lucanus cervus). on a chestnut's branch.
These watercolors are painted on a 11.5 x 16.5 cm of J. Perrigot®, Arches special en in 140 lbs/m² rough grain paper.

Large formats of insect watercolors

Every Coleopteran, offered in model kit, will also be proposed under a big-sized watercolor format with a new view angle [painted on "le Rouge®" rough grain in 145 lbs/m² sized up to 50 x 65 cm from the Moulin du Coq® factory].
Each painting will be numbered, signed and sealed.
Hereby is exhibited a watercolor of Lucanus cervus in situation on an oak's branch under this format.


Watercolors of insects
As always, we can realize any type of watercolor of insects, whether the subject revolves around coleopterans or not. Proof is given by this Hemyptera, (Graphosoma italicum) ) on the left and this Hymenopterans, bumble bee (Bombus agrorum) on the right.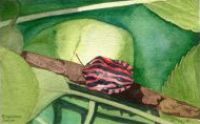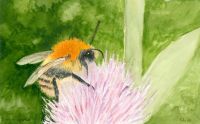 In the future, we may add samples to these two depending on demand. We exploit personal photos shots and exploratory drawings to compose new examples of non-coleopteran watercolors.
Meanwhile, if you want a personal creation, we invite you to contact us in English by mail at mpoty@free.fr.

Watercolors of butterflies
Proof of our know-how in this field, the two original watercolors inspired from various pictures of Melanragi galathea and Libythea celtis, prove our ability to reproduce pictures in paintings. Both are part of our private collection; they are not for sale under this precise form, except the Graellsia isabellae which is included in our price-list as well as the European brimstone (Gonopteryx rhamni) were carried out according from Robert Guilbot (OPIE) original pictures we do thank for his courtesy. You will find these watercolors for sale in our page price-list with other models.

This piece of information given, each butterfly has precise characteristics and postures which are proper to every species; they can't be interpreted.



Personalized watercolors
You have an idea of an insect-related artwork, or a personal document (i.e., picture, photograph, draw, copy) which is so precious to you that you want to see it in original watercolor in a precise size.
| | | |
| --- | --- | --- |
| We show you opposite what we can realize starting from a 10 x 15 cm picture. Here a shot from Robert Guilbot (OPIE) of Maniola jurtina is interpreted at the same size in a watercolor. | | |
Whether the subject is a type of insect, bird, butterfly, mushroom, plant or other, do not hesitate to ask us about your needs. mpoty@free.fr
We will study any request from your side; then we will confirm to you not only our ability to give you satisfaction, but also the forecasted cost and timeframe. In case of agreement, we will provide you by email with the preliminary and modifiable sketches...


Sketch further

Request for Modifications

Final project

The Completed Watercolor

Note: Your comments in red, ours in blue.

... which, after some e-mails exchanges, will come off to the watercolor project as you want to see it. After your agreement on the terms of your order, the contractual document will be scanned and submitted to you by e-mail for your final approval, before mailing it to you.

Watercolors lovers, we are pleased to present you six samples, while inviting you to visit the "Apollon 1,618" and discover more about our know-how.



Indian inks

Watercolors of doors
Copies in watercolor


Watercolors of seascapes



Oil on canvas

Gouaches
| | |
| --- | --- |
| We expect you have enjoyed your time with us, and we invite you to check our PRICE-LIST. See you soon! | |